About Ornina
THE BIRTH OF ASHTAR AND ORNINA
I live in the heart of the middle east, though specifically in Syria. As you know my dear readers my neigbouring countries are Lebanon, Jordan, Palestine, Turkey and Iraq. All of these mentioned countries are rich in wonderful old textiles and jewellery.
When I was just a child I came to realize the value of the rich art we have in these countries and that was by the favor of tourists when I use to guide them in my bazar. I had always wanted to put my own specific touch into this art. Life is too short for putting dreams and aspirations on hold. Soon I opened my own shop where I was able to begin learning textile in an academic way of learning in which I practiced it according to my experince which was taken from old textile experts. Ornina and Ashtar then was born by Adnan.

Our Suppliers
I have developed a group of talented artisans and designers. They are here to offer you original, high quality, handmade items for you and your home. I am immensely proud of my group of artisans and collection, which can't be found anywhere else neither online nor on the high street. I work hard to keep my collection fresh, unique and full of one of a kind products.

My boutique
My shop is a mixture of handmade works and exclusive designs. Every product has a unique story just crying out to be shared with you...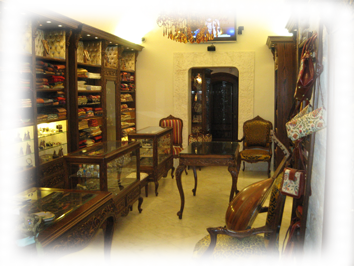 ---
Ornina Categories :