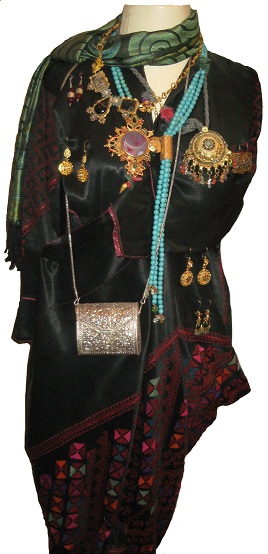 This woman's coat is from Qal'at Sam'an.
A village northwest of Aleppo near the Turkish border.
The indigo-dyed fabric and the silk applique were both produced in Aleppo.
Then embroidered by women in Qal'at Sam'an.
Inspired by the natural surroundings the motifs included stylized cypresses and conifers. Yelek is a Turkish word that refers to a long fitted coat.
The full-length sleeves are also fitted.
The dyeing technique called plangi allowed women to create complex and unique designs.
It was first used on hand-woven silk then on cotton-silk blends then on cotton.
Accessories included a heavy gold-plated silver belt and a headdress woven from pure silk.
This yelek was made in the early 1800s.
The dress dates from about a century later.